Why We Changed Our Native American Mascot

By Liam Macleod
Traditions have always been rooted deep into Western society and culture, as time gradually moves forward some of these traditions change, whilst others stay firmly statute, passing from generation to generation. The beautiful thing about a tradition is that they help us define who we are as people, they tell us what our past has been and can possibly even help us steer the direction in which we are going. Every tradition tells a story that to a given society has great significance.
The tradition we want to talk about goes back over 100 years and centers around the traditional American summer camp. Traditional American summer camps were born from the simple idea that children should have the opportunity to spend their summers learning about the outdoors while also spending time in the great outdoors. Summer camp would be there provide them a safe place, to learn, to play, to make friends and most importantly, to have have fun. To this day the traditional American summer camp trend is still a popular one with data research by the American Camp Association suggesting there are more than 8,000 resident camps registered in the U.S alone and each year more, than 14 million children and adults attend camps in the US. With millions of children attending camps that foster crucial growth and development, it's important that the traditions they experience are positive and culturally appropriate.
Our summer camp, Indian Head Camp was founded in 1940. The original owners had named the camp after the famous rock outcrop called 'Indian Head' on the Delaware River.

During this time it was a common theme for traditional resident camps like Indian Head to use Native names and to introduce Native folk-lore – some genuine, some imaginary – to their traditions given the outdoor programing experience. Indian Head Camp would teach campers about outdoor cooking, fire building, orienteering, canoeing and take them on adventure trips through the rugged Lenape land and lake that that camp was built on.
When Indian Head Camp was founded it also adopted an 'Indian Head' chief mascot for a logo, like the name it was perhaps chosen without the proper cultural understanding of the consequences that come with it. Remember, that this was the 1940's and it was a time where racism and bigotry were more openly prevalent in the wider society and the harmful stereotypes that originated from this segregation were commonplace.
Over the years Indian Head Camp changed ownership multiple times, and like other summer camps, in order to differentiate ourselves we went through some major philosophic and programmatic changes. This concept, alongside changing cultural norms meant that many of our original camp traditions diminished over time. Also with these changing times grew a wider perception that many camp traditions based around the Native culture, were not based on any historical facts and, in some instances, may have reinforced negative stereotypes that do not accurately reflect Native culture. Although our program and philosophy had changed and we had moved away from many of our traditions, our name and the Indian Head chief mascot was still in use.
With each passing year there has been an abundance of growing support mounted to end the era of racist and harmful "Indian" mascots and names in sports and popular culture. Hundreds of tribal nations, national and regional tribal organizations, civil rights organizations, school boards, sports teams, media personalities, and individuals have called for an end to harmful 'Indian' usage.
Like many others we could of argued that the usage of our Indian Head logo was to honor the Natives and stood to promote positive traits but we agree with the social research that shows that Indian Mascots and images are important symbols with deep psychological meaning and social effects.(3) With the passing of time we were beginning to acknowledge, through our meaningful dialogue with native people, that we could not hide the truth that our logo promoted misleading associations and showed a lack of respect to Natives. To provide more clarity we opened up several dialogues with Native representatives who expressed that whilst our mascot was a strong image, it was strong and catchy. Their opinion was, rather than honoring actual tribes, we were benefiting from them. This theme is one that continues to be a struggle faced today across the Native societies.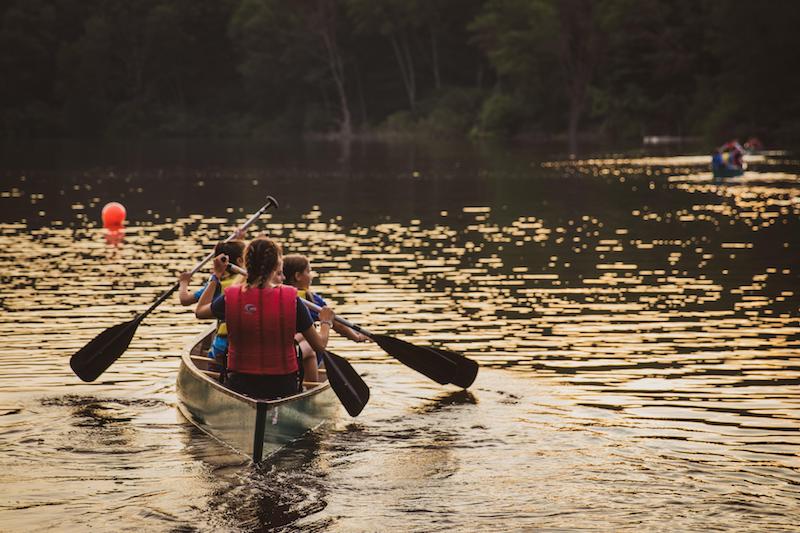 Despite being a small business, it was clear to us that as Indian Head Camp continued to grow it was more important to us that we evolve. Unless we made a change we were always going to struggle with the reality that our name and logo is deemed offensive to many people in our country. The belief from the owners and directors and wider leadership team was that as a summer camp, our purpose is to educate and make others feel good. That is our mission. How could we achieve this if we knew that we were offending others in our country? We couldn't.
It was from these dialogues and from our strong values that we made the unanimous decision to drop the Indian Head mascot and change our name to Camp IHC. We did not want to be associated with unnecessary cultural appropriation.
We want to stand on the right side of history and join those before us who rebranded in an effort to make a more positive impact. Regardless of the consequences from our decision we first and foremost wanted to be brave and to do the right thing and we firmly believe what we are doing is the right thing. We've been around since 1940, we're a well established summer camp with a great reputation but to us the change was too important. It's the classic 'be the change you want to see in the world' scenario. There are many who say it's just 'political correctness' when people or companies adopt or make a change like this, however by labelling it as 'political correctness' it is making that feeling personal and by doing that it takes away from the evident research that highlights the harmful effects that using stereotype 'Indian' logos can cause.
Therefore we are looking to the future and listening to those we live beside, listening to the people who are always trying to make their voices heard and help us understand the need for social change. We do not wish to take them for granted. Camp IHC is going through a process, an evolution and we will always be looking to evolve. Our goal is to create an environment where every person feels welcomed, respected and understood. We are thankful that the response we've had so far has been overwhelmingly positive.
We also understand that whilst our name and logo change is the right decision moving forward it is important to always honor the past. The name Indian Head Camp has often been referred to as IHC, a lot of our alumni and older community who grew up at Indian Head Camp may always know it as Indian Head Camp. It's an important part of who we were and who we are today. When we ask our youngest campers what IHC stands for it's open to their interpretation. They answer that the pillars of IHC stand for Integrity, Imagination, Honesty, Happiness, Home, Community, Caring, Compassion & Commitment. The same philosophy that is used for our new camp name is now also used for our logo. What the logo stands for is once again in the eye of the beholder. To some the new logo is a teepee, to others it's a mountain, or an A that represents the 4 A's that our entire camp program is built around, to a few it's an arrow, a compass head or even a pyramid representing strength and structure. You see what you want to see.
As this is a continual process we're not sure how far we need to go, we will continue our dialogues to make sure we are doing enough and we're always open for discussions in which we can learn. To help give back to the Native land of Equinunk where Camp IHC is located, we're pushing through legislation to change Price Pond back to its original name of Lake Lenape. As a small business these changes won't happen overnight but we've started the process and we are committed to it. So far we have removed the old name and logo from our camp signs, our merchandise, our social presence and our website. We hope the steps we're taking are recognized for all the right reasons and help to promote further change.
The name and logo have changed but our campers will continue to have the same great experience at IHC, the traditions we promote are our own and we still run a traditional summer camp which provides children with the opportunity to grow, to play and learn to build a fire or cook outside or learn to fish and build a tent. They will still be free from the pressures of social media and beauty products. They will still learn about the values that we promote, like spirit, and teamwork, sportsmanship and being a good person. These traditions are the ones that we will continue to carry on in the future.
The Camp IHC of today has come along way from the Indian Head Camp that was founded 79 years ago and today as we take another big step forward we are feeling proud of the changes we've made. This is a landmark point in our history and we will continue our efforts of self-improvement and hope to provide a clear transparent understanding of the steps we continue to make.